Gear to optimize Helium Network Hotspot range: Place antenna outside, hotspot inside:
| | |
| --- | --- |
| Miner Make & Model | Antenna Connector Type |
| Bobcat Miner 300 | RP-SMA-female |
| RAK Hotspot Miner v2 | RP-SMA-female |
| SenseCAP M1 Helium miner | RP-SMA-female |
| Syncrobit SP Helium HNT miner | RP-SMA-female |
| COTX-X3 Helium Hotspot Miner | SMA-female |
| Kerlink Helium Hotspot Miner | N-female |
| Wirnet iStation | N-female |
| Nebra HNT Indoor Hotspot Miner | RP-SMA-female |
| Nebra HNT Outdoor Hotspot Miner | N-female |
| Syncrobit SP Helium HNT miner | RP-SMA-female |
| Linxdot Helium Hotspot | RP-SMA-female |
| ClodPi Pro Hotspot | RP-SMA-female |
| LongAP Pro IoT Gateway | N-female |
| LongAP Light IoT Gateway | RP-SMA-female |
| VoskCoin Helium Hotspot Miner | RP-SMA-female |
| Dragino LPS8 DLOS8 | SMA-female |
External antennas for Helium Network Miners / Hotspots.
The coverage achieved by a Helium Hotspot is critical to its performance in earning HNT rewards. It is therefore in the interests of Miner owners to achieve the best coverage possible by upgrading the Helium Hotspot antenna to an external antenna with higher gain. The right antenna can pay for itself within days of purchase as it achieves connection to more witness hotspots and the Miner it is connected to will have better PoC performance.
Helium antennas are LoRa antennas, and by using an outdoor LoRa antenna with enhanced performance, Helium users are finding that the Miners can become more profitable which is important given the significant upfront costs. Data Alliance carries LoRa antennas for both the 868 and 915 frequencies.
In areas with a high density of hotspots an outdoor LoRa antenna that is connected to the Miner can produce a significant uplift in earnings. An external omnidirectional LoRa antenna can also have its position adjusted to optimize its range. Fiberglass collinear arrays mounted at height, and magnetic-mount whip LoRa antennas are popular solutions.
A through-window coaxial cable solution is critical for connecting an outdoor LoRa antenna to an indoor Helium Miner/Hotspot.
Outdoor Helium Miners are available, but they are very expensive when compared to indoor Hotspots. The common solution is to run coax from an indoor Miner to a outdoor antenna via a window or door.
Using regular coax will lead to the cable being crushed and damaged. The correct solution for running Helium Hotspot cabling through a window or door is to use a flat coax cable.
Flat coaxial cable couplers, also known as window jumpers or window entry cables enable a secure weatherproof connection to be made between an outdoor antenna and indoor radio frequency equipment like a Helium Hotspot. This means that there is no need to drill masonry to bring in antenna Cables from outside, which may not be permitted in rented accommodation.
The flat coaxial coupler has a unique structure that achieves its flattened dimensions. The coupler has within a length of extremely small diameter (mini-coax) coax cable which is insulated supported by copper beads that protect it from the pressure of the closed window or door. Two RP-SMA connectors (male to female RP-SMA connectors) are attached at either end of the flattened length. The coupler has a thickness of 4.5 millimeters (0.18 inches) and has a low signal loss. The flat antenna cable is available in 18 or 30-inch lengths. An adhesive strip on the coupler means that it can be secured to the window or door frame.
Some couplers carry an adhesive strip so that the cable coupler can be fixed to the window frame or a bulkhead connector for secure mounting if required.
Adapters and accessories for connecting an external LoRa antenna to a Helium Hotspot
Both LoRa antennas and Helium network Miners use SMA antenna connectors. These are a distinct antenna connector from the RP-SMA connector that is used in the coaxial coupler. Even though these connectors look externally identical the inner mating interfaces of the RP-SMA connector are reversed. An RP-SMA to SMA adapter is therefore needed to make the correct connection. In addition, you may require:
●SMA antenna cables: An SMA cable can be used to connect the LoRA antenna to the flat antenna cable via an adapter and a second length can be used with an adapter to connect to the Helium Miner/Hotspot.
●Antenna mounting equipment: The external antenna will require secure mounting at height.
●Antenna weatherproofing equipment: The antenna's longevity will be prolonged by using suitable weatherproofing, including Coax-Seal to seal and protect the antenna connectors that are exposed outside.
All Helium network antennas, cables, and accessories are RoHS compliant.
Our selection of Helium compatible antennas and equipment are all compliant with the Restriction of Hazardous Substances (RoHS) directive and equivalent domestic and international laws.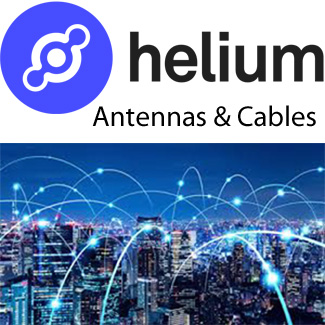 Posted by George Hardesty on 20th Jun 2021