Rust Proofing and Corrosion-Protection: Best Options Among Nickel, Gold-Plated Brass & Brass Alloys: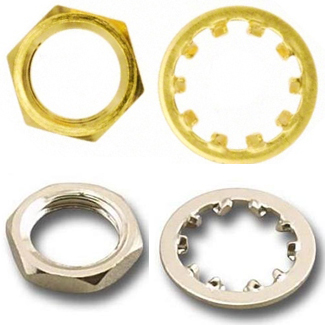 For outdoor applications, Nickel-Plated Brass is the best option.
Nickel-plated brass one is much durable than gold-plated for weatherproofing of antenna cable connectors.
Nickel-plated brass is the most corrosion-resistant option: Nickel-plating will last at least 5 years. Normally 5-10 years - depends on application field. Data Alliance has never made such a long time test, but we are confident based on our quality record: We have never had a complaint from a customer regarding a corrosion issue with our nickel-plated brass connectors in our past 17 years in business.
Nickel does not decompose as it oxidizes, but forms a layer of nickel-oxide that prevents further oxidation from occurring.

Nickel-plating is achieved by electro-plating the brass connectors and washers with a thin layer of nickel.
The result is connectors that are highly resistant to rust /oxidation and verdigris (those green spots that show up on old brass).
For indoor applications: Gold-Plated Brass is the best option.
Gold-plated is better in appearance and much more expensive than nickel-plated one.
Rust Proofing and Corrosion-Protection is Achieved in our antenna cable connectors, adapters, nuts and washers with 100% Brass with Gold Plate By:

Keeping zinc content below 15%
Adding in other metals to the alloy such as arsenic, phosphorus, antimony, and tin.
Notes:
Posted by George Hardesty on 2nd Oct 2019