UHF RFID Tags: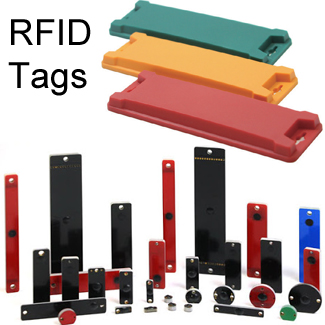 UHF RFID industrial tags include high temperature resistant tags, anti-acid and alkali tags, and miniature metal tags.
For industrial M2M & IoT solutions such as:
Inventory tracking
Warehouse Management
Asset Tracking
Auto-ID
Tool Tracking
Smart Parking Control
On-line Tracking and Management
Key types of industrial UHF RFID Tags:
1. Long Distance RFID Metal Tag:
The tagging of metallic assets requires special consideration as radio frequency waves cannot pass through metal. Instead, signals bounce off metal surfaces and are unable to be easily picked up by a reader.
Mount on-metal RFID tags overcome this limitation with varied designs that permit the tagging and tracking of a variety of metallic assets. These UHF tags can be attached to both metal surfaces and objects, with either screws or adhesives for optimal positioning. On-metal RFID tags are typically structured with a spacer, made from air-filled foam of around 5mm, that ensures that the tag is separated from the metal surface on which it is mounted and facilitates a more favorable electromagnetic field.
The antenna design of these tags offer long read distances of up to 20 meters (65 feet) with consistent read strength. Active tag designs of this type can broadcast on the 2.4GHz frequency and achieve reading distances of over 100 meters (328 feet). Some proprietary designs of passive RFID tag feature looped antenna designs that harvest radio frequency energy efficiently and can be read at similarly long distances. The pairing of the tag with a complementary external RFID antenna further extends reading distance, making the tags ideal for deployment in expansive spaces. These metal tags can be accurately read in a variety of orientations by both fixed and handheld readers. They provide high utility in the most rugged of environments including:
Outdoor environments
Staging areas
Storage yards
Parking lots
2. Global Frequency UHF Metal Tag:
Global UHF tags are able to work at any frequency across the world, making them an ideal solution for global asset tracking in industries such as shipping or aviation. This means that a single tag can be used for inventory internationally. These global broadband standard tags function at multiple frequencies across the UHF band (between 840 and 960 MHz), making them utilizable in various global regions including:
The United States at 915 MHz
Europe at 866 MHz
Japan at 953 MHz
China at 920-925 MHZ
Global tags can be passive, printed tags or active units. Industrial global tags are built to withstand even the harshest outdoor conditions with encasement that is IP67 rated for the prevention of dust and water ingress. Some broadband tags are designed to provide reading ranges of tens of meters and be mounted on metal.
3. High-temperature UHF Metal Tag
UHF tags can be encased within temperature and flame-resistant materials for use within many high-temperature settings, particularly in the manufacturing sector. They provide a solution for identification and tracking in dangerous industrial settings. Their typical frequency is 915MHz and have read-ranges of several meters.
The tag antenna and chip is encased in a range of heat resistant materials such as:
Ceramics
Teflon
Nylon
Glass-reinforced epoxy laminate (FR4)
Proprietary materials
RFID tags fabricated in this way can withstand temperatures of over 200 degrees Celsius (392 degrees Fahrenheit) and in some cases, ultra-high-temperature tags can withstand temperatures of up to 400 degrees Celsius (752 degrees Fahrenheit).
Key applications and industries for high-temperature UHF tags include:
Paint curing
Oil and gas
Automotive manufacturing
Laundry
Autoclaving
4. Mini RFID Metal Tags:
Passive RFID tags can be miniaturized for application to smaller objects, without loss of performance. Their compact size means they can be used to track items like laboratory test tubes or other small components. They contain tiny transponders that feature an integrated coil antenna. Despite being miniature, mini RFID tags also can contain a 64 or 96-bit read/write chip and are engineered to be hard-wearing. They are available in a range of frequencies. UHF mini tags are Gen2 compliant and offer close-range identification at frequencies between 865 and 928MHz. Small ultra-small RFID tags and micro RFID tags can be as small as a millimeter in length. The small size also means that they can be combined with other technologies in tags or wearables.
5. PPS Metal Tags:
Polyphenylene Sulfide (PPS) is a thermoplastic with exceptional heat and structural stability as well as rugged resistance to chemical corrosion moisture and steam. This makes the material useful for the fabrication of encasements of hard-wearing UHF RFID tags. These, often disc-shaped tags, are used in the garment industry and can be attached to uniforms or linens for efficient asset tracking. PPS tags usually have a diameter of a few centimeters and read ranges of up to 40cm.
6. UHF Flexible Anti-Metal Label:
These flexible passive label tags are designed for easy application to a variety of metal surfaces, meaning that metal assets can be readily tracked. Anti-metal, flexible RFID tags are Gen2 compliant, with reliable read ranges of several meters despite the proximity of the tag to metal and surface curvature. Rolls of printed tags can be customized and encoded according to application requirements.
7. UHF Flexible Tag:
These are long-lasting, thin and flexible passive tags that can be used to track assets in a variety of industrial and healthcare environments. They are made for attachment to objects that have deformable surfaces and are fabricated from hard-wearing components. Many designs feature a wire antenna that is bendable and delivers a 360-degree read profile. Such tags are readily embedded in a variety of materials with no impairment of performance.
Fabrication materials include polyester, polyolefin thermoplastic, stainless steel, and epoxy. Use of UHF frequency bands means that multiple objects can be read with a single pass, for reliable inventory management. Read distances obtained are up to 6 meters and tags are conformed to the Gen2 protocol. The IC chips of flexible tags range in memory capacity and are often pre-written by the manufacturer.
Ultra thin tag designs afford easy application to textiles by sewing or ironing, making their use in commercial laundries a key application.
Notable types of flexible UHF RFID tag include:
Embeddable RFID wire tags
Hard heat-sealable RFID tags
Flexible label tags
8. High-Temperature FPC Inlay
An RFID inlay comprises the tag's functional unit, including its chip and the aluminum, silver or copper antenna which interacts with the radio frequency signal. These components are typically bonded to polyethylene terephthalate to create a flexible printed circuit (FPC). FPC inlays can These tag inlays are encoded and printed using an RFID printer. Once printed inlays can be embedded within the tag encasement of choice. The use of inlays is advantageous in situations where tag attachment may be difficult, for example, the curved surfaces of gas cylinders, canisters, barrels or flexible cabling. Wet inlays can also be stuck down on under the rim of containers or machine casings.
9. Magnetic RFID Tags:
Magnetic on-metal RFID tags provide secure mounting for both passive and active tags on metal surfaces. They are ideal for short-term applications, as they can be readily detached and reattached. Magnets are safe to use with RFID tags as their integrated chips do not use magnetic-based memory, and so will be unaffected by the presence of a magnet.
UHF magnetic mount RFID tags have read distances of several meters and can be fitted with a variety of customizable read/write chips.
These tags are used in a variety of settings, for example:
Vehicle fleet tracking
Machinery part labeling
Construction
Given the industrial uses for magnetic RFID tags, manufacturers have produced tags to withstand extreme industrial environments and exposures such as:
Oil
Heat
Immersion
heavy impacts
high humidity and moisture
Vibration
mechanical shock
Solvents
Acid/base
UV
Fabrication materials such as FR-4 laminate and high-density polymers are used to fabricate these tags.
10. RFID Screw Tags:
Screw RFID tags can be screwed in, using their threaded part, to a variety of materials and structures for long-term embedded identification technology. These tags are rugged and able to withstand extremes of temperature and pressure, making them ideal for a range of industrial settings. Each screw tag has a secure, unique ID and depending on the integrated chip, can be programmed, with data retained for up to 10 years. UHF screw tags work within the range of and can be read up to 2 meters (6.5 feet) away. They are usually moisture, dust, acid/base, and solvent-resistant. Tags are fabricated from materials like Acrylonitrile butadiene styrene (ABS) or metal and can be applied to a range of materials including metals, wood, and plastic. Metal casings can even be welded in place as part of the fabrication of an object. This enables them to be utilized in a variety of industrial applications including:
Transport
Oil and gas
Outdoor equipment
Heavy machinery and tooling
Marine
11. RFID Nail Tag:
These passive RFID tags are shaped like a nail and can be driven into wood and other suitable materials. They are made from ABS and other high-density polymer materials. The transponder within the nail is well insulated against shock, vibration, moisture and corrosion and so can tolerate being hammered into position (using a rubber mallet and via a pre-drilled hole) and can remain in place for up to 10 years.
EPC Gen2 UHF nail tags are available with typical operating frequencies within the range of 860-960MHz and tags have reading distances of approximately 20 to 30 centimeters (7 to 11 inches). They are well suited to year-round outdoor conditions with operating temperatures ranging between - 40 degrees Celsius to 85 degrees Celsius.
Depending on the type of tag used, nail tags can also feature read/write chips with encryption, locking, and unique secure identities for long-term deployment with confidence.
UHF nail tags have a number of key applications which center around parks, forestry and the management of trees. Other applications include:
Timber management
Labeling and tracking of pallets
Labeling of plastics and cement products
Packaging control
Posted by George Hardesty on 6th Feb 2021