UHF Connectors:
The Ultra High-Frequency (UHF) connector is a threaded coaxial connector that was developed in the 1930s by engineers at Amphenol. They name these connectors at a time when the UHF frequency range was considered to be 300 MHz and upward. Despite their name, contemporary UHF connectors are used for low-frequency applications. UHF connectors were initially used in radio broadcasting use and with a design that is related to the banana plugs.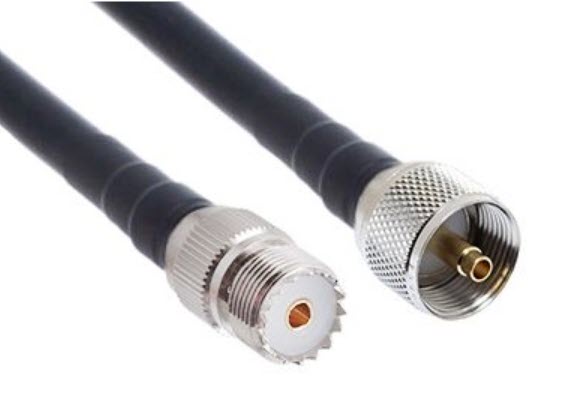 Physical Specifications of the UHF Connector
The UHF connector has individual male and female radio frequency connectors that form a mated connection by screw-coupling. UHF connectors do have a specified standard, but most manufacturers achieve inter-compatible designs that can fit a range of coaxial cable dimensions.
PL-259 and SO-239
These old signal corps nomenclatures refer to a popular type of UHF plug (PL-259) and socket (SO-239). The SO-239 socket can also accept a banana plug and a wide variety of inter-series UHF adapters can be obtained to make competent connections. Alternative names are Navy type 49190 (plug) and 49194 (socket). These military terms have largely fallen out of use.
The UHF connector's body is made from machined, nickel-plated brass with a Teflon insulator. Though it is rugged and easy to handle and mate, it is not weatherproof, limiting its applications. The outside diameter of the mated connector is usually 18 millimeters but can vary.
The connectors have 5⁄8 inch 24 TPI UNEF standard threading
The male UHF connector has internalized threads and carries a brass conductor pin
The female UHF connector has externalized threads and carries a brass receptacle.
UHF connectors are rated for over 500 mating cycles.
Electrical specifications of the UHF connector
The UHF connectors have a non-constant impedance which may make their use challenging for certain radio circuits. The non-constant surge impedance also limits its use to LF, HF, and low VHF frequencies. The UHF female connector and the variance in design and performance are usually the cause of any surging that occurs.
Here are the other typical electrical characteristics of the UHF connector:
Frequency range: 0 to 500 MHz
Working voltage: 750 volts
Insulation resistance: 5000 megaohms
Contact resistance: 5 mW
Precise electrical specifications are specific to each type and manufacturer of UHF connectors.
Applications of UHF connectors
This is a cost-effective, robust radio-frequency connector that is suitable for general-purpose use. It performs best at frequencies below 200 MHz. Its performance significantly deteriorates at frequencies above 500 MHz. Here are some of its main contemporary applications.
Citizens band radio communications / Ham radio
Mobile radio
Landing and ground control aviation systems and hardware
CCTV
Public address systems
Ship-to-shore communications/marine VHF
Cable assemblies
LF, HF, and some VHF antennas
Civil defense
Because of its inconsistencies, users often replace UHF connectors with BNC or N connectors, using between-series adapters.
Posted by George Hardesty on 16th Jul 2022